PhyreEngine frá Sony

Sony Computer Entertainment hava akkurát almannakunngjørt teirra nýggja gameengine til spælframleiðslu, PhyreEngine. Tvey stór features eru Cross platform support (í øllum førum PS3 og PC. Kanska eisini Xbox 360 og Wii) og OpenGL og Direct3D.

Tað ið kann tykast undarligt er at Sony hervi beinleiðis hjálpa konkurentunum hjá sær á konsole marknaðinum, við at gera tað lættari hjá spælframleiðarum at fáa PS3 spøl at rigga á øðrum platformum, men har er nokk eit djúpri meining við tí.

Tað er eingin loyna at spælframleiðarir hava í langa tíð flutt seg meira og meira ímóti tí breiða marknaðinum og cross platform support, fyri at selja meira eintøk av spølunum, og intil víðari hevur tað verið Playstation sum hevur tapt marknaðardeil, orsaka av Direct3D, sum ger tað lætt at porta PC spøl til Xbox og vice versa, ímeðan ports til og frá Playstation hava verið truplari at gera og oftani minnið væl lukkaðar.

Tað er hendan gongdi sum PhyreEngine skal bróta við at gera tað allarlættast at framleiðs spøl á eini vanligari PC, sum forritarir eru mest vanir við at brúka, og síðan lættliga porta frá PC til onnur systemir, harímillum serliga PS3, men eisini onnur.



kelda: http://www.ps3fanboy.com/2008/02/21/gdc08-phyreengine-sonys-new-free-cross-platform-engine/
23/02/2008 klokkan 01:51 -
Sammi
Commodore 64 til wii!


Eg veit ikki um at nakar her, minnist tí góðu gomlu commodore 64.
Tað var ein consol, sum brúkti kasettu bond sum spøl.
Hon hevði m.a. 64 kb/ram... ja KB!!. Ljóði og graphikurin, var fantastiskur tá, her síggja vit eitt dømi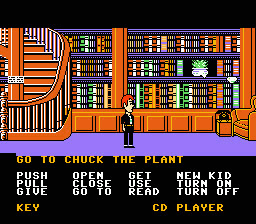 Ok man má indrøma at hatta sær nokkso gott út fyri at verða komi út í 1982.

Nintendo almenna kunngjørdi ídag, at tey orginalu C64 spølini fara skjótt at koma út til wii shop channel, og hetta er bara í europa. Nógv av spølinun (um 4000 spøl í alt til C64) fara at blíva regluligt kunngjørd sum download tittlar til wii.
Spølini fara at kosta uml. tað sama sum tey vanligu nintendo Entertainment System spølini (500 wii points) 1000 points kosta um 70 kr.
Hetta sær spennandi út, verður stuttligt at prøva góða gamla commodore 64
22/02/2008 klokkan 17:22 -
Vagnur
FIFA 08 kapping


Í vikuskiftinum nú verður ein kapping í FIFA 08 til PlayStation 3. Kappinging verður hildin av EL-IN, og verður í KÍ Caféini. Heimasíðan hjá EL-IN segði:

"Leygardagin 23. februar kl. 11.00 byrjar føroyameistarskapi í FIFA 08 til Playstation 3 í KÍ Café'ini.

Vit hjá EL-IN hava í samstarvi við KÍ Café'ina skipa fyri einari stórari FIFA kapping. Um tú ert 13 ár ella eldri, kanst tú melda teg til við at ringja 77 45 08 ella 77 45 05. Kostnaðurin er 0,-, og tú hevur møguleika fyri at vera við í kappingini um ein 32" Samsung flatskýggja(sí mynd). Nr. 2 og Nr. 3 fáa eitt FIFA 08 spæl til playstation og ein kassa av sodavatn. Av tí at høli er avmakað er tað eisini avmarkað atgongd, tí ræður tað um at vera skjót/ur at ringja.

Samstundis sum kappingin fer fram, verður møguleiki at keypa filmar, spøl, consollir ella sjónvørp. Eisini verur møguleiki at keypa kaffi, sodavatn og bomm í kioskini hjá KÍ.

Vit gleða okkum at síggja teg."

FIFA 08 er ikki eitt spæl sum verður nógv spælt kompetitivt í Føroyum. Tað verður spennandi at síggja hvussu tað fer at ganga.
21/02/2008 klokkan 14:58 -
HForce
DG English press release


Sum tit sikkurt vita nú, so kemur eSports til 2008 Olympics. Tiltakið kemur at eita Digital Games.

Nú er tann officiella enska press release útgivin:

Press Release

2008 Digital Games' Global Videogaming Tournament to Culminate in Shanghai at Official 2008 Olympic Games Welcome Event

China Internet Gaming Organizing Committee (CIG) and GGL Global Gaming Sign Pact to Host Global Videogame Tournament

Amateur Gamers and Fans can immediately get more information at www.GGL.com

SANTA MONICA, Calif. — February 19, 2008 — In a move that will start a new chapter in videogame history, GGL Global Gaming today announced that it has signed an agreement with the China Internet Gaming Organizing Committee (CIG) to launch The Digital Games. Under the Our Olympic Series of Large Scale Cultural Activities, GGL has been appointed the official partner and co-producer for making videogames an official "Welcome Event" of the 2008 Summer Olympic Games. The appointment was made by the 8 branches of the China Government that comprise the Beijing Olympic Welcome Events committee; known as "Our Olympic Organizing Committee" (OOOC) which is supervised by The Beijing Organizing Committee for the Games of the XXIX Olympiad (BOCOG).

Gamers of all skill levels will compete for the opportunity to represent their country in a global tournament celebrating videogames, the "2008 Digital Games". The tournament will culminate with a Grand Finals event held in Shanghai (Home of Olympic Soccer).

GGL, the leading media company dedicated to expanding and delivering the culture of videogames to a worldwide audience, will host a series of official amateur online qualifying tournaments around the globe, across multiple gaming genres and platforms. GGL will also hold invitational competitions for professional and celebrity gamers – who will also face off at the welcome events hosted by the China Government leading into the Digital Games Shanghai finals.

"The China Internet Gaming Organizing Committee is proud to be the first in digital sports history to recognize videogames as a competitive sport, and we are pleased to be working with GGL to elevate videogames – the 99th Official Sport of China – to the world stage," said Fong Hong, Honorary General Secretary of the China Internet Gaming Organizing Committee. "Because of GGL's global reach, content and community, brand recognition, technical capabilities, tournament expertise, strong ties with the gamer community and a rapidly growing Chinese presence, it was a natural fit when deciding who would be the perfect partner for this event."

"GGL is thrilled to partner with CIG and host a first-of-its-kind videogame tournament to elevate the culture of gaming to a world stage around the 2008 Summer Olympics in China," said Ted Owen, Founder and Chairman, GGL Global Gaming. "The Golden Age of videogames is here, and the '2008 Digital Games' are the galvanizing moment that will both celebrate and legitimize the culture. Not only are videogames the fastest growing mainstream form of entertainment in the world, they are quickly becoming a part of our culture and this is a natural way to embrace and celebrate this among this hard to reach younger demographic."

Gamers who would like to compete for a chance to represent their country can register at www.ggl.com. Qualifying tournaments will continue through the summer and take place across a variety of gaming genres – such as first-person shooters, sports, real-time strategy, action-adventure and puzzle games. Top players will compete in a series of matches where the winner will earn a seat on their country's first Digital Games team.

At the end of the qualifying tournaments, the top players from each country will face off in Shanghai. GGL, CIG and OOOC selected Shanghai as the host city for the videogame tournament to take advantage of the large expected media and spectator turnout for the Olympic soccer matches and other medal events to be held there at the same time.

"Videogames have become an incredibly popular form of mainstream entertainment throughout the Asia-Pacific region and the rest of the world. They are an established and accepted part of the region's culture, and in many cases the top players enjoy the same recognition and status as today's top sports athletes," said Fong Hong. "For this reason, it was appropriate that the 2008 Summer Olympic Games in Beijing embrace the idea of making videogames an official Welcome Event, with the hope that our vision will set the stage for similar events at future Olympic Games."

GGL is the world's leading social networking destination for the global community of videogame enthusiasts, and is filling a much-needed void in the industry through its unique brand of gaming focused programming and sports and celebrity leagues. GGL's unique social networking platform caters to players' varied competition needs, bringing together enthusiasts from all walks of life including amateurs, professionals, celebrities and sports stars.

About GGL Global Gaming

GGL is a worldwide leader in videogame competition, community and coverage. With 10 million unique visits per month, GGL is the top destination for the global community of videogame enthusiasts and its culture. Via the company's unique social gaming network platform, GGL caters to gaming's varied competition needs, and broad array of video content that fills a much-needed void in the entertainment space. Through these offerings, GGL creates an immersive entertainment experience for a rapidly growing community of connected gamers. For more information, visit www.ggl.com.

About China Internet Gaming Organizing Committee (CIG)

CIG is a comprehensive activity launched by the Ministry of Information Industry, supported by all telecommunication operators, and organized by PPTNA (group) under the MII and China Internet Association and its content includes online games, exhibition, forum, and summit meetings. CIG is launched in a style popular in communities and provides an open, interactive, promotional, cooperative and win-win platform for governmental departments and industry associations as well as operators and mass consumers. CIG is a national Internet gaming with the highest level, most famous participators and widest range in China. It, serving the electronic gaming concepts, healthy and intellectual spirits, Internet gaming alliance co-construction as the tenet, endeavors to standardize the online games market, build the "state" Internet gaming trademarks, establish the "Oscar Award" in Chinese Internet gaming industry—Golden Finger Award, and then facilitate the prosperity and development in Internet gaming industry climate. Due to the successful holding of CIG 2002, CIG 2003, CIG 2004, CIG 2006 and CIG 2006, GIG will be opened regularly each year. CIG, continuing to persist in the tenet of "open, cooperative, mutual beneficial and double win" and the digital entertainment concepts of "green games and healthy life", will contribute to the healthy and harmonious development of the digital entertainment industry in China which takes the net games as the core. CIG also concerns the public welfare and would like to contribute to propagandize the hi-tech Olympics, people's Olympics on the basis of the expertise in the digital entertainment field and the wide influence in the youth and by means of the digital Olympics.

About OOOC

In order to facilitate the requirement that each Host City put on a series of cultural events leading up to the Olympic Games in Beijing; the China Government authorized the formation of a committee to host a "series of large scale cultural events". Officially known as the "<Our Olympic> Series of Large Scale Cultural Activities Organizing Committee," (OOOC) it is charged with organizing and selecting vendors to produce these cultural events. OOOC is comprised of a variety of branches of the China Government; including, All China Federation of Trade Unions; All-China Women's Federation; China Federation of Literary and Art Circles; Chinese People's Association for Friendship with Foreign Countries; the All-China Federation of Industry and Commerce; the All-China Youth Federation; and the Chinese Overseas Friendship Association.

21/02/2008 klokkan 10:04 -
HForce
Red Faction: Guerilla avdúkað


So hava THQ officielt konfirmerað tað sum øll vita: Tað triða spælið í Red Faction røðini er undir produktión av Volition.

Spælið eitur Red Faction: Guerilla. Í spælinum tekur spælarin rolluna sum ein insurgent soldatur sum berjist mótir Earth Defense Force sum ein partur av tí nýggja Red Faction bólkinum.

Spæli er til XBox 360, og sovæl sum single-player, fer tað eisini at hava ein multiplayer aspekt.

Stjórin á Volition sigur:
"Red Faction: Guerrilla expands the signature destruction elements of the series and pushes the boundaries of next-gen gaming on a massive, terra-formed Mars where gamers can literally tear down the enemy EDF presence brick by brick.

"With a new third-person perspective, a full cover system that allows for guerrilla-style tactics and a diverse planet to explore, we're excited to revitalise the gripping world of Red Faction for high-definition platforms."

Spælið er sett at koma út í 2009.
20/02/2008 klokkan 19:54 -
HForce
eSportur í fjølmiðlunum

Í morgin kl. 19.30 føroyska tíð er møguligt at síggja temakvøld hjá DR2, sum hesuferð ferð at snúgva seg um eSport.

Millum annað verður hugt nærri at eSporti sum heild, business síðuna av eSporti, framtíðina hjá spæl heiminum og so tosar DR2 við nakrar royndar danskar telduspælarar.

Sendingin kallast "DR2 Tema: Cybersport for millioner". Nærri kunning fæst við at fylgja hesi leinkju.

Kelda: http://www.dr.dk/presse/Article.asp?articleID=25920
Gaming.fo søkja skrivarar
[img]http://heima.olivant.fo/~samalr/img/uncle_sam_wants_you.jpg[/img]
Ert tú áhugaður í gaming tíðindum? Veist tú nógv um gaming ídnaðin? Fylgir tú við í nýggjum spølum o.s.fr.?

So vilja vit hava júst teg!

Gaming.fo leitar eftir dugnaligum, virknum skrivarum at halda øllum uppdateraði um tær seinastu hendingarnar, útgávurnar, og annað nýtt innan gaming.

Tað hevur stórst týdning at tú ert førur fyri at regluliga skriva nýggjar og áhugaverdar tíðindagreinar.

Um tú ert áhugaður, so send eini boð til [url=http://www.gaming.fo/index.php?mod=users&action=view&id=2]H-Force[/url].
18/02/2008 klokkan 14:33 -
HForce
BYOC vinnarar


Á BYOC LAN-Party tiltakinum, ið var niðri í Studentarskúlanum í Hoydølum í vikiskiftinum, vóru tríggjar kappingar. Tær vóru í Counter-Strike 1.6, Unreal Tournament 2004, og DotA.

Í CS vunnu team not Rated (tnR), við No Nonsense sum runners up. Fleiri av leikarunum í No Nonsense hava spælt í langa tíð og tí var hetta liði kosi favorittur áðrenn finaluna, men eftir ein avbera tættan dyst vístu tnR at teir vóru betra liði.

DotA kappingina vunnu HIVA, ið vóru mannaðir av trimum leikarum í no1, sum hava vunni báðar tær síðstu DotA kappingarnar á Net-Upp. Tað var upprunaliga ætlanin at alt no1 liði skuldi luttaka, men tveir av limunum fingu tíðanverri ikki møtt, og tí komu tveir avloysarar við, og teir valdu at luttaka undir navninum HIVA ístaðin.
Tað blivu Team Argir sum vóru runners-up í DotA kappingini.

Top 3 í UT 2004 vóru:

Butcho_Merdas (Jákup Erik)
Kozy (Bjarni Jacobsen)
Phantom (Boas Hansen)

Jákup Erik vann ein 250GB harðdisk fyri fyrsta pláss. Bjarni vann eina Razer Diamondback 3G gaming mús, og Boas vann eitt Logitech headset.

Butcho_Merdas og Kozy vóru eisini í UT 2004 finaluni á síðsta Net-Upp tiltakinum, men tá bleiv dreaKan (Heini Weihe) nummar trý.
18/02/2008 klokkan 13:36 -
Sammi